Why to choose Autotranport?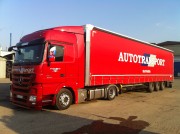 Performance and reliability

Because our credo is to maximize the performance achieved at the lowest possible cost - not only for us, but especially for you.
More than 20 years we watch the market and information in the field of transportation industry and therefore we can rationally and effectively evaluate any situation and solve any problem within transport process in order to achieve the greatest customer satisfaction.

Quality and Management

Our response to the growing demands of the international market in the field of transport, such as time saving, environmental protection and so on, is the introduction of new concepts and approaches to the management of the transport process. Using the quality management system ISO 9001:2008 enables us to improve of quality of our services constantly.
AUTOTRANSPORT Company, Ltd. consits of departments with the appropriate managers, who are solving specific tasks and they together provide optimal performance of the company in order to create the conditions for maximum performance of working staff.
Our managers are trained and experienced professionals with appropriate education and are able to communicate in foreign languages​​

Experience and Education

In the oparation of the company and in service workshop there you can find staff with years of experience only. They can repair vehicles not only in our service workhsop, but lasi in the actual field, if it is required by the situation. All staff are regularly re-training by our partners or directly by manufacturers.
Our truck are drived by experienced drivers only. All of them has proper work permit and other necessary certificates. Monitoring of observance of safety regulations are under regular controlling of our mangers and safety technician.
To gain new customers and keep favor of curent customers by providing the top quality service. To provide high qualitty service to all customers and build up our reputation all over the Europe. To analyse problems arising during transport...
Quality policy