P&O Ferrymaster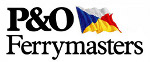 P&O Ferrymasters has a rich heritage and a proud name. But it is what we do today and tomorrow for our customers, not what we did yesterday, that will ensure our growing reputation as one of Europe's leading supply chain management specialists.

That's why we are continually investing and innovating so that we not only exceed your expectations today with our end-to-end services, but can anticipate and then meet your specific supply chain challenges of tomorrow.

We've built up our business from its humble beginnings in Lancashire (UK) in 1953 into a major European logistics service provider with 25 key operational bases spread across Europe.